News
Jeff Hinshaw
June 17, 2012
The Official Orange Podcast has been updated with The Four Towers! You can download it on iTunes, Zune Marketplace, or by using the direct link.
Jeff Hinshaw
June 16, 2012
Been itching for another video? So have I, so that is why I bring you another video finally! This video was originally made for one of my film classes, but thought would make a nice video.
Jeff Hinshaw
April 27, 2012
Hello there my good people! Today I have exciting news! I have just spent a little time reworking how blog narrations behave. When viewing a blog, the audio for a blog narration will appear as a player rather than a link to the audio. I have more updates planned for the future but that will have to wait until summer!
With this new update, Alec has added a new blog narration for his blog My Funny Valentine. Go check it out!
Jeff Hinshaw
March 2, 2012
Thought you knew Alec? Think again! The times are a-changing and Dr. Alec Lon Weaver has a new and improved bio! Check it out on the information page to see what the Alec is all about!
Jeff Hinshaw
February 13, 2011
The Official Orange Podcast has been updated with Talent Show: Hurt Feelings and Talent Show: Lucky! You can download it on iTunes, Zune Marketplace, or by using the direct link.
Jeff Hinshaw
February 13, 2011
Two new special videos added! Friday and Saturday we participated in our school's talent show. Alec and I were the two MC's and members from Official Orange also participated in a couple acts. These two acts can be seen in our brand new special video.
Flute of the Commodores performed 'Hurt Feelings' by Flight of the Conchords.
Steph and I performed 'Lucky' by Jason Mraz.
Just a special note on the video, the video is actually a playlist of the two acts. To view the second act, simply click the 'next' icon on the player.
Jeff Hinshaw
January 26, 2011
Added a blog narration for PHP Wizardry! So all you lazy people who don't want to read paragraph after paragraph after paragraph after paragraph of text can simply listen to it.
I noticed some years were not able to be searched for in Weblog Search and the news archives so those have been added as well.
Jeff Hinshaw
January 24, 2011
Okay, so this is the part where I usually apologize for not updating in a while and promise more content is on it's way, but this time is different. Yes, we've been extremely busy and we're sorry, but that's life. I can tell you though that we do have some videos planned, but I will have no guarantee on how soon they are filmed and posted.
A blog narration will be posted with this blog... eventually. No guarantees.
Jeff Hinshaw
October 3, 2010
Last year, I took part in a video project in my Advanced Acting class. Our group was to create an original script and make it into a video. Using my knowledge and experience, I aided our group in the production of our video that we later named Star Wars Mockumentary: The Stormtroopers' Saga. I didn't get around to putting it up online until now, so check it out! I think it's pretty funny.
Jeff Hinshaw
August 11, 2010
Attention Official Orange viewers! Attention Official Orange viewers! I would like to make an announcement! We have an exciting announcement! ... Thank you!
No, but in all seriousness, we have a brand new Official Orange member! Please give a hand to our latest member, Alec Weaver! Alec Weaver has been a great help to us for quite a while as he has helped write many scripts and has acted in several videos. He will now officially join the team to continue doing these things and maybe even write a blog or two. Check out Alec's autobiography section to find out a little more about Alec!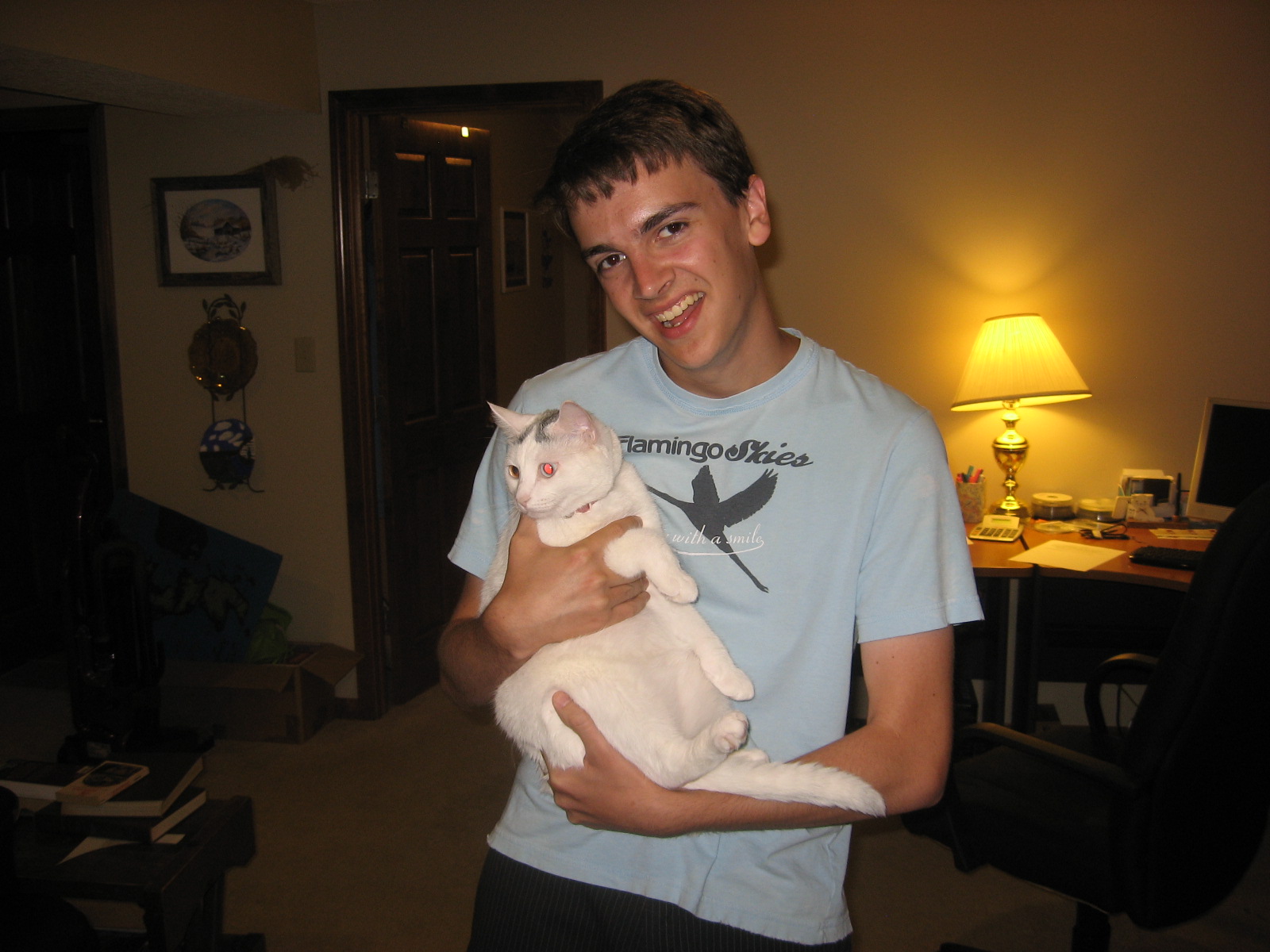 Jeff Hinshaw
August 8, 2010
Today I have begun a new project. I am now in the process of making the site look the same across different browsers. For a couple years now I have only focused on Firefox and realized I was being way too unfair as many viewers use Internet Explorer and other internet browsers. This project may take a long time (as I will probably take many breaks in between and work on other projects in between as well), but hang with me. I hope to be done within a month. So the moral of this story, don't be surprised when you start seeing some visual changes.
First major visual change: Links look a little different now. They no longer have a hover background color and are only underlined when hovered over.
More updates are being worked on, including more videos! Hang with us as we are all very busy with our lives. I would just like you to remember this site is a hobby, not a job.
Jeff Hinshaw
August 2, 2010
So... do you guys remember that RSS feed we used to have? You know... the thing that would tell you when we made an update? Well I have exciting news! The RSS feed is coming back! Now before any of you groan and just wait for it to stop being updated again, I have more exciting news! The RSS feed will now be automatically updated so we here at Official Orange don't even have to worry about it! It'll just update for us!
In the past I know we had four different feeds for our different content updates, but we have now consolidated the feeds into one feed. Most modern browsers have the feed on one of their toolbars, but if you are confused on how to subscribe, visit the RSS page.
Jeff Hinshaw
July 26, 2010
Today I added a blog narration to the latest blog, Maple Syrup. So for those of you who hate reading, you can now simply listen to the blog.
More updates underway! We're currently working on some videos and more blogs. Keep checking back for more updates!
Speaking about more updates, my next task I have assigned myself is to make an easy way to update the RSS feed since that hasn't been updated in ages. I'll try and get that update out as soon as possible so instead of checking back here constantly you can simply be informed by the feed that we've added an update.
Jeff Hinshaw
July 17, 2010
We now have a new feature on the site that replaces the marquee and the latest blog/video table. This new feature is known as the carousel and should be more effective in giving you the latest content updates. Check it out under the navigation bar on this page! Expect more updates soon!
Jeff Hinshaw
June 15, 2010
Phew! Today I went through and updated all archives' links. All the links have been updated so they now all work correctly. I also found a few mistakes while sifting through all our old entries.
A couple older blogs have been added to the database. Somehow when I was in the process of entering all the blogs into a database, a couple were left out. These blogs have been added back in. Because I have things set to automatically update, these two blogs show up as new on the home page and the blog page. I may fix this or I may just leave it.
I discovered that news entries from April 2009 were not included in the database. Fortunately I had these items archived on my computer so I was able to add those news entries in and they will now display on the archives page.
Weblog Search has been updated with pagination so it now resembles the archives page.
Jeff Hinshaw
June 14, 2010
The News Archives have gone under some major changes!
There are two new search features! One is an advanced search feature which allows you to search through the archive entries by month, year, author, and keyword. This will allow you to find a certain entry you may be looking for. The other search feature is the ability to display ALL entries instead of manually entering in a range.
The number of entries found will be displayed at the top of the page.
PAGINATION finally arrives! This has been something that Official Orange has needed for quite a while! Pagination allows the results to be spread out across several different pages so that you aren't viewing a million results on one page. With this exciting update, you may start to see other results pages to include pagination.
I hope you all appreciate these small changes. It's these changes that will help perfect a new feature that will hopefully hit Official Orange this summer.
Jeff Hinshaw
June 10, 2010
The Official Orange Podcast has been updated with Rock Band: Chop Suey!! You can download it on iTunes, Zune Marketplace, or by using the direct link.
Jeff Hinshaw
June 8, 2010
New special video! This new video took a lot of careful editing and a lot of time, but very worth it! Enjoy now as we present to you the winner of the Rock Band poll question: Rock Band: Chop Suey!
Jeff Hinshaw
June 6, 2010
Weblog Search has been improved! There are now two new search features which may prove to be useful.
Keyword search feature added. This feature allows you to search for words inside the blog itself to help you better find the blog you're looking for.
Blog narration search feature added. This feature will allow you to find blogs that have been narrated by their corresponding author.
Results number added. At the bottom of the page, the number of results you found will be displayed.
Many more exciting changes and updates are being planned still, so stay tuned!
Jeff Hinshaw
June 6, 2010
All blogs have been entered into a database so now all blogs are viewable on one page. Nothing has changed for you the viewer, but it has made things a lot easier for me. Weblog Search has been updated as well making things a little easier. There are probably still a few kinks in the system so don't be surprised if some blogs are formatted oddly. These sort of issues are being worked out.
A new special video is being worked on right now. It's really difficult to edit, but I'm aiming to have it up sometime in the next two weeks if all goes well.