News
Elijah Kampsen
August 14, 2008
NEW JOURNAL! Click here!
Elijah Kampsen
August 12, 2008
NEW CONTEST! Check it out! (Deadline: August 19th)
Jeff Hinshaw
August 11, 2008
HEY EVERYONE! THIS IS JEFF AND I'M BACK! I know you missed me, and I have now fixed everything!

Anyways, the reason I was gone is because I was at the Iowa State Fair. And, I wrote a blog to compliment it.
Jeff Hinshaw
August 8, 2008
Today is 8/8/08! Isn't that crazy?!
The Olympics start today! If you want to watch it, just go to NBC because that's all they will broadcast. The Olympics for two weeks straight!
Jeff Hinshaw
August 7, 2008
We have some good updates for you today on this wonderful day in August.
NEW JOURNAL! Click Here!
We have a poll regarding Journal 21. So, read the new journal entry, then head over to the poll and vote! The link to the poll can be found under the navigation links to the left.
Elijah Kampsen
August 6, 2008
NEW COMIC! Click Here! Note: Comic updates will NOT have pictures on the home page like blogs, etc. do. They will just have a bold, bulleted update, like the one above.
Comics page updated! The comics page now works just like the journals page with links for every comic, and then "Jump To Next" links at the bottom of each comic page. Check it out!
Elijah Kampsen
August 5, 2008
I built a Last.fm page for Baby J and the Playa-Hatas Squad! Click here!
On this site, you can read a bio about the band, listen to full-length previews of all the songs, and help support me in the process. Chances are, all new songs will be posted here, and ONLY here. I still plan on releasing a full-length CD later this year, so I'll keep you posted!
Elijah Kampsen
August 4, 2008
We've hit 4,000 views on the home page in 5 months! I think that's pretty good. Don't you? Don't answer that.
Jeff Hinshaw
August 2, 2008
A new thing we'll now do here at Official Orange is tell you who wrote which date entry. Check out the bottom of this entry to check out the new feature. Oh, by the way, I wrote that blog I said I would.
Jeff Hinshaw
August 1, 2008
Happy first of August! You may be wondering when the next big post will be. Well here's a list of updates that we are planning to make soon:
A new video can be expected soon. We are filming on Sunday and will hopefully have it up Wednesday or Thursday.
I've noticed that the site has been lacking blogs. So, I've decided that we need to post more blogs more often. I should have one ready and posted tomorrow.
You may know about the weekly newsletter made by Elijah and sent via Facebook, but I will now make a monthly newsletter that will be sent out via e-mail. I will have this feature up and running soon.
I think that's all the updates that we have planned... Oh wait, I almost forgot... the RSS feed. I've been a little lazy about it lately... I'll try to catch up and keep up, but the RSS feed is harder to keep up than you think...
Also, just a little reminder, it is a new month, so the July news has been moved to the archives.
Jeff Hinshaw
July 22, 2008
A new information site is up! You can see all the information you need to know about Official Orange in a few web pages! If you are new or unfamiliar with Official Orange, these web pages are for you! Check it out here!
Elijah Kampsen
July 14, 2008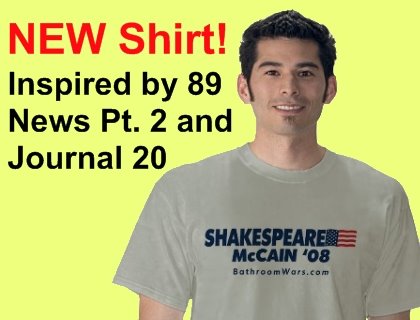 Elijah Kampsen
July 13, 2008
ATTENTION! We have switched home pages! Our home page is now located at http://www.bathroomwars.com/index.html. Although, you can still type http://www.bathroomwars.com and get to the same place.
Cannibal Worm and Evil Kitty updated! Click here!
Vocals re-recorded with a much higher quality mic.
Worm noises added to the instrumental section of Cannibal Worm.
Drum volume lowered in both songs to make vocals easier to understand/hear.
Information page updated!
The Official Orange Facebook group will be sending out weekly updates every Sunday starting now. If you want to receive these updates, join the Official Orange Facebook Group now!
Jeff Hinshaw
July 12, 2008
ATTENTION INTERNET EXPLORER USERS! We have a temporary fix for your problem. Just click here to go to the IE home page. (http://www.bathroomwars.com/index.html)
We will hopefully have a permanent fix to the problem soon. Thanks for you patience!
Jeff Hinshaw
July 11, 2008
A huge problem on Internet Explorer was found with the marquee. The whole page scrolls instead of just the top section. All Internet Explorerusers, I am so sorry. We will try to fix this problem as soon as possible.
Elijah Kampsen
July 10, 2008
Marquee! Check out the top of the page!
NEW BLOG, Driver's Ed!
NEW JOURNAL!
NEW SONG, Trees!
NEW Advertising Informational Page! If you are interested in advertising on the site, visit this page.
Elijah Kampsen
July 4, 2008
Happy Fourth of July all Americans!
New video in honor of the Fourth of July!
Check out the ad at the top of this page!
Buy your own Official Orange [Volume 1] Declassified DVD!
Only $11.50!
Elijah Kampsen
July 2, 2008
The results of the 4th contest have been posted. They can be found here.
We filmed the next video today, with a 4th of July theme, so expect it by the 4th of July.
Jeff's birthday is July 7th!
A quick and efficient way to set up an ad on the site is coming soon. Be patient.
Jeff Hinshaw
July 1, 2008
Hey everyone! It's the first of July, which means a few things!
The fourth contest ended, so expect results to be posted soon!
The fourth of July is coming up, so we are filming a video in honor of America! Expect that video up by July 4th!
My birthday is coming up on July 7th!
All the news from June would usually be moved to a different page, but because of redesign, I've decided to just make a news archives page! You can find the link to the news archives below the recent news heading, and also at the bottom of this page. You're welcome.
We're done with Driver's Ed on Thursday, so expect a blog from me or Elijah, or maybe even both of us.
There's a new moon tomorrow! So don't be surprised if you can't find the moon tomorrow night. That is, if you live in the US.
Jeff Hinshaw
June 26, 2008
NEW BLOG! So you don't have to tell Elijah to slap me.
Site maintenance complete! So that includes fixes to:
All invalid links. Also made jump links making things a little more convenient to you.
Alternative text to all pictures and also a title.
Updated Journal Pages. The next and previous buttons now resemble the podcasts pages.