News
Jeff Hinshaw
January 20, 2009
A new poll is up! Go vote now!
We've updated our Zazzle store. We've removed unpopular shirts, as well as edited the remaining ones. If you have shirt ideas, or want Elijah to custom design one for you, e-mail Elijah!
Today we announce our eighth contest winner!
Transferring the domain was tough work! It took hours upon hours! Last Friday night, Elijah, Will, Drew, and I gathered at a LAN (Local Area Network) party and finished the transferring of files.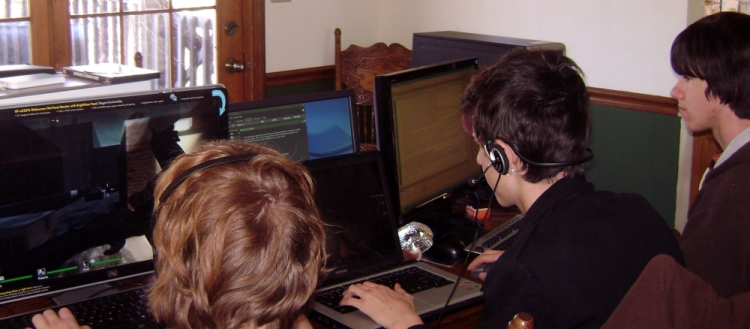 Drew, Elijah and Jeff working... or maybe just Jeff working.
The new blog is the first to feature a comments box! Comment away
Jeff Hinshaw
January 19, 2009
Hello everyone, and welcome back to Official Orange! Updates are being planned, and we just made our first update: We've successfully transferred our domain to JustHost. We went through each and every file and changed each and every link. There may be some we skipped over, so if you encounter a problem, just e-mail me.
Our first update with JustHost will be a new blog. Since rants won in the latest poll, this new blog is a rant. There will be a new poll up tomorrow.
Jeff Hinshaw
January 8, 2009
December news has been moved to the archives.
There may be some downtime later tonight. Get ready for some major updates!
Elijah Kampsen
December 27, 2008
During the next 6 or so days, you may notice a null in activity here on the site. That's because Jeff and I will be in Orlando, FL! For 6 days! Now, if we could make a huge long blog accompanied with tons of pictures about a half day trip to Abilene, imagine what a 6 day trip to Orlando could very well mean!
By the time we get back, it will be January of 2009, which can only mean one thing: HUGE update! I won't go into further detail, but be sure to check back with us at the beginning of the new year for updates of epic proportions.
We wish everyone a happy new year and will see you again in 2009! - Elijah and Jeff
Elijah Kampsen
December 25, 2008
NEW Banner! (Designed by Bill Kampsen, Elijah's Dad)
Happy Holidays to everyone from us here at Official Orange!
Bill Smith
December 17, 2008
Steely Phil vs. Adolf Hitler
Too cool for words.

Elijah Kampsen
December 16, 2008
We're working on new original content, but in the meantime, here's some stuff to keep you occupied. You're welcome to tell us what you think by signing the guestbook!:
Hoveround - "I Get Around"

One of my favorite commercials.

Also, here's a funny conversation I had the other day. A girl added me on Facebook with my same last name. I know I'm not related to her, and I had to keep myself occupied somehow:
December 14th, 2008
Elijah Kampsen (7:01 PM): Are you my sister?
Elijah Kampsen (7:01 PM): Because I think I might be adopted.
S----- Kampsen (7:05 PM): im pretty sure im not
Elijah Kampsen (7:07 PM): So, it's alright if we date?
Elijah Kampsen (7:07 PM): You won't even have to change your last name when we get married.
S----- Kampsen (7:08 PM): i have a boyfriend
Elijah Kampsen (7:08 PM): You can invite him. I don't care. I'm inviting my girlfriend.
Elijah Kampsen
December 13, 2008
It's been a really long time since we've updated, but we've been taking many things into consideration to make Official Orange better! So, for the time being, we figured we'd keep you occupied with one of our favorite viral videos (It's short). You're welcome to tell us what you think by signing the guestbook!:
Kid Jumps From Truck Into Signs
Jeff Hinshaw
December 2, 2008
November news has been moved the the archives.
Introducing something new! Ever have a yes or no question that needs answering? Have no fear, Official Orange is here with an update called, "Jar of Justice"! Jar of Justice kind of works like a magic 8-ball, but better! All you have to do is type in a question, then the Jar of Justice will calculate an answer! We will update the jar so there will be tons of answers to choose from! Click here to go to the Jar of Justice!
Elijah Kampsen
December 1, 2008
For lack of time, We'll be switching over to December-mode tomorrow. This means moving news, quotes, etc. to archives and more. This will just be a regular update.
Introducing Official Orange's Musician of the Month! This month's musician: Colorado Crunk-rockers 3OH!3. This new segment can be found here!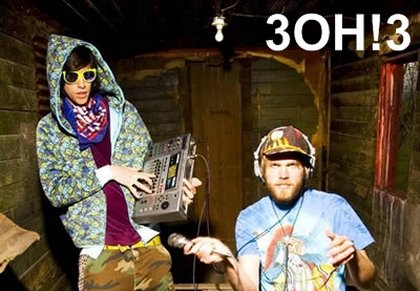 Jeff Hinshaw
November 22, 2008
It's been a while since the last update, but we were all feverishly working on a new video that is now ready for today!
Things have been decorated on the site to fit the Thanksgiving theme. Thanks to Liam Kampsen for the logo!
Don't forget to vote in the poll!
New videos are written and will be filmed later on!
Elijah Kampsen
November 16, 2008
We've got good news! A new video is currently being filmed and can be expected by the end of the week!
Another new comic! This time, by Elijah! Check it out!
Jeff Hinshaw
November 4, 2008
Happy Election Day (for all our US viewers)!
The poll is over! It looks like Evil Kitty won!
A new poll has started. Go vote in the poll now!
Elijah Kampsen
November 3, 2008
NEW CONTEST! This contest, beginning immediately, is for the most invites to the Official Orange Facebook group. To enter, all you've got to do is invite your friends to the group (by clicking the convenient "Invite Friends" button at the right on thegroup page.) The winner will be the person who invites the most people to the group, so invite ALL your friends for a better chance to win. Once you've invited your friends, post on the discussion board the number of people you invited, so we may keep track. Deadline for entries is Friday, November 14th, 2008 at 11:59PM CST. Cash prizes will be awarded. Good luck!
Information added to Information page regarding "Wake Up!"
Elijah Kampsen
November 1, 2008
Welcome. This month will be full of surprises, the first of which begin... NOW
Official Orange is welcoming a new member! You may remember William Johnson from "The End Of Official Orange?" He played the FCC Agent, as well as wrote the ENTIRE script! William will be easing into a position here at OO just like Jeff and I. You can expect many future updates from him (Check out his Bio here).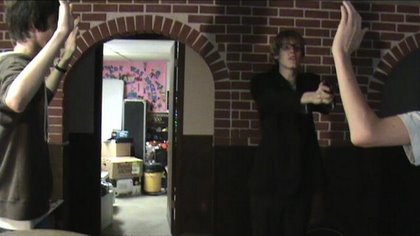 "The End Of Official Orange?"marked the end of Volume 2 of Official Orange. Accordingly, Jeff has begun work on a new DVD (more on that later). We have changed/added many pictures around the site as well to accompany the change. The first video for volume 3 is already being scripted and should be ready mid-month!
We're starting volume 3 off with a bang, with the release of "Wake Up!" the fourth single from Baby J and the Playa-Hatas Squad! Head on over to the downloads page to hear the new track.
October news archived.
Jeff Hinshaw
October 29, 2008
I had some trouble with the upload process, but part 2 is finally up!
Jeff Hinshaw
October 28, 2008
Halloween is coming up and we hope everyone has a wonderful Halloween!
A brand new song will be here soon!
NEW VIDEO! This season finale video marks the end of Volume 2! A DVD will accompany this and the next volume will start soon!
(I was having some upload troubles, so Part 2 will be up soon. It will be up on YouTube around 11:30PM CST, but not up on the website until tomorrow at 3:30PM CST.)
Elijah Kampsen
October 27, 2008
A new video will be up tomorrow
New banner!
Jeff Hinshaw
October 20, 2008
A new special video will be up in the near future.