Nintendog Battles
Liam Kampsen
January 29, 2009 12:00 AM CST
Recently I was eating lunch at school, and I found out a student in my class plays Nintendo DS in the bathroom. She plays the so-called addictive game 'Nintendogs'.
Everybody thought "why not just play it at home?" She claims she doesn't have time to do so.
One of my friends and I however, thought different. We both said the game was annoying because you can't kick or throw the little tiny dogs. Well, that's what he said at least. He had a much better idea then this boring game where there isn't even real fur to pet, just virtual stuff. The dog doesn't even go to the bathroom until it is outside! You can't even pet the virtual puppy with your finger! You have to use the stick stylus thing! Is that realistic you may ask? Well, no it isn't.
So he came up with a game where you pit dogs in an arena to fight. It's called Nintendog Battles. Quotes from other students include "I would totally buy that game!" and "You could make a little Chihuahua battle a massive Police dog!" I of course thought that would be awesome if you could also care for the little virtual dogs. Care in the form of kicking them if all they say is "YIP-YIP-YIP-YIP-YIP!!!" Little midget dogs love that. Actually, I guess only really unusual midget dogs love that... That's why we call those dogs 'kick-dogs'. We weren't trying to be mean but who likes petting and caring for little fake dogs? They don't ever die either. That doesn't even sound like a good game!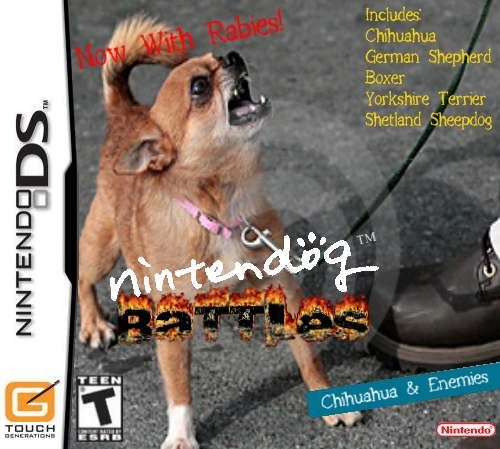 At this point my friend is probably searching for a major producer company to make this game. He probably won't succeed but if he did I might just have seven Nintendo DS Games! Wouldn't that be wonderful...